Join us for the 2021 Madison SWCD Annual Meeting!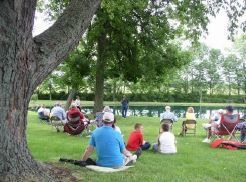 Gwynne Conservation Area
690 Arbuckle Road
London, Ohio
Thursday, August 19th
5 pm -7 pm
▪ Cast your vote from 5pm–7pm
▪ Take a wagon tour (Tours depart at 5:30pm and 6:00pm)
▪ Bring a chair and enjoy a boxed picnic dinner 
▪ Awards presented at 6:30pm
(Purchase your dinner box tickets by August 12)
This form stopped accepting submissions on August 19, 2021 5:00 pm EDT.
The Madison Soil and Water Conservation District will hold an election for the District Board of Supervisors. Two board members will be elected to a three-year term of office. Candidates in this year's election are Jonathan Francis, Robert A. Hunter, Nancy Denes-Sparks and AJ Schmitt. For the first time, the annual meeting will take place at the start of the election period rather than the end.
You may cast your vote in three ways.  To cast a vote, visit the Madison SWCD office at 831 US Highway 42 NE, London;  e-mail gail.wilson@oh.nacdnet.net to request an absentee ballot; or cast a ballot at the kick-off event from 5:00 p.m. –  7:00 p.m. on Thursday August 19, 2021 at the Gwynne Conservation Area, 690 Arbuckle Road, London.  Voting by absentee or in person at the Madison SWCD office will be available until Friday, September 17th.  
---