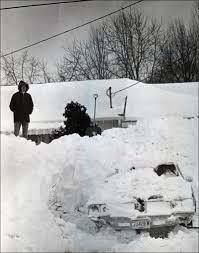 The National Weather Service defines a blizzard as a storm with large amounts of snow or blowing snow, winds greater than 35 mph, and visibility of less than ¼ mile for at least three hours. These conditions can occur when areas of below freezing air meet with rising moist air. That is exactly what happened more than 40 years ago when windchill temps reached -60 Fahrenheit with winds gusting up to 85 mph.    
If you keep your ears open this winter, I'm sure at some point you will here talk of the Blizzard of '78. That cold winter, a trifecta of conditions intersected to create one of the most devastating blizzards in U.S. history. In 72 hours, Cincinnati had seen 6.9" of snow, Dayton with 12.9", and well over two feet in other areas. Powerful wind gusts blew snow into drifts 25 feet high. Seventy people lost their lives across the country due to exposure, loss of heat, and structural collapse. The highest death toll came from Ohio at 51.  
Agriculture was also hit hard in Ohio, dead livestock, lost production, property damage, and milk and egg loss totaled more than 73 million dollars. Wildlife was not exempt from the blizzard's damage. Many cite the blizzard as the beginning of the decades long decline in quail populations across the country, aided by new farming techniques and land uses.      
Quail once thrived in Ohio, with our open prairie grasslands and savannah habitats. These areas provided optimal cover, foraging, and nesting opportunities to quail populations. As urban populations have grown, prime areas of quail habitat have become fragmented, decreasing resource availability. Fragmentation of habitat has also occurred throughout agricultural areas, where "cleaner" farming practices have reduced edge habitat, eliminated fencerows, and decreased the amount of fallow ground. The combination of these factors has contributed to the declining number of quail throughout the region.  
The Environmental Quality Incentive Program (EQIP) provides monetary incentives to landowners who are interested in implementing approved best management practices to promote and increase quail habitat. These practices include: (1) warm season native grass plantings that provide diverse foraging opportunities and nesting sites; (2) tree and shrub establishment that provides cover to quail; and (3) field borders and filter strips, which are used to enable movement between feeding and areas of cover.
If you are interested in learning more about these practices, contact the Madison Soil and Water Conservation District (740) 852-4003 and ask for Broc Sehen, District Technician-Wildlife Specialist, or your local NRCS office.